Regular price
$22.00 USD
Sale price
$20.00 USD
Unit price
per
Sale
Sold out
Aromastories Citrus Body Butter is a moisturizer used to hydrate and soften the skin. It is made of olive oil, shea butter and beeswax with orange and lemongrass essential oil.
Orange has a refreshing and lightly sweet scent. Lemongrass is a fragrant grass known for its distinct lemon like scent. Together, they calm and uplift the mind and body. They promote clarity and feelings of happiness and joy. They 

refresh and invigorate. 
Aromastories Citrus Body butter softens the skin and reduces stress and anxiety. Citrus Body butter promotes feelings of energy and alertness.
Our Body butter is dense and rich. It has an oil base and is designed to protect the skin, preventing and eliminating dryness, roughness and calluses. Body butters are capable of providing deep moisturization and long lasting softness.
The Aromastories Body Butter recipe is a timeless traditional source for soft and supple skin. Olive oil, native to the eastern Mediterranean, is rich in antioxidants and fatty acids. Shea butter, native to sub Saharan West and Central Africa, is a fat derived from the nuts of the shea tree. It is rich in fatty acids, vitamins and minerals. Beeswax, naturally produced by honey bees in California, has natural anti-bacterial and anti-inflammatory properties. These components come together to soothe the skin and create a protective barrier that seals in moisture.
Our goal is to help soothe and protect the skin from environmental damage and make you and your skin confidently cuddlable.
Body butter melts at 90 degrees Fahrenheit, and may be kept in the refrigerator indefinitely, but is not required. It is advised to keep unused body butter in the refrigerator.
Specifications:

Item Form: Butter
Skin Type: All
Weight: 4 oz.
Packaging: 4 oz. stainless steel tin
Share
View full details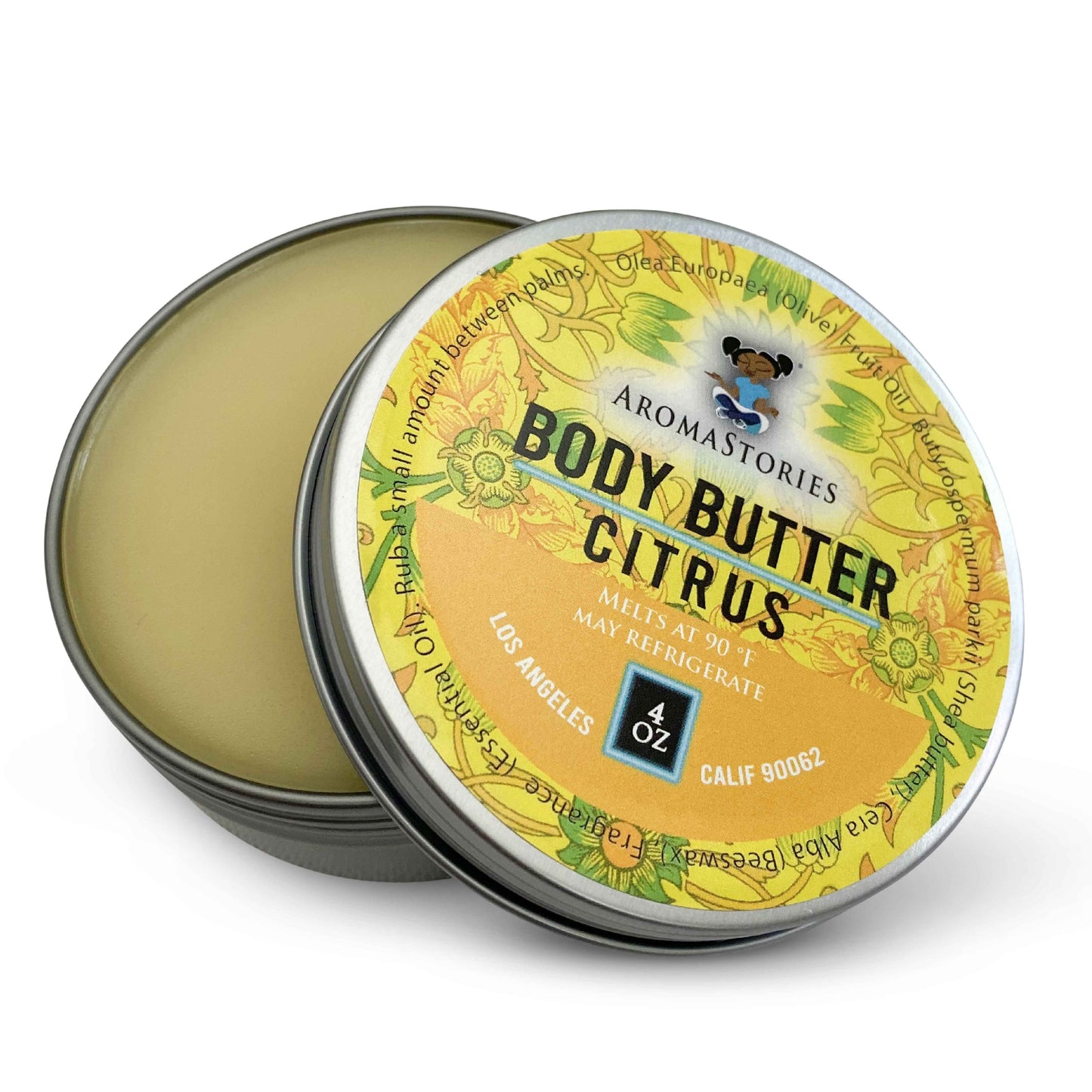 Five star
I love how my skin stays moist and soft and the smell is nice too